This Month from PHA
By Partnership for a Healthier America

●

Nov 03, 2022
🔥 We hope you'll enjoy the November recipe of the month: Buffalo Cauliflower. This healthy take on the classic can help brighten any day.
✨ PHA's President and CEO, Nancy E. Roman, published an op-ed about how philanthropic organizations can think strategically to ensure healthy food access.
🔍 Our Good Food for All program has returned to Indianapolis. Take a look below for a peek of the food we're providing families.
🍎 We are co-hosting a webinar for Clinicians. Recipients will receive free resources to help support the families they serve to build strong foundations for healthy eating.
📣 Giving Tuesday is almost here! This year, Giving Tuesday is on November 29th. Keep an eye out for a big announcement this month about our most important giving day. We're hoping you can help us make an even bigger impact for Food Equity in the year to come.
Thank you for helping to make our work possible,
The Partnership for a Healthier America Team
Recipe of the Month: Buffalo Cauliflower
🧑‍🍳 We hope you enjoy this recipe for Buffalo Cauliflower. This fun recipe is also flexible - you can use your favorite sauce to make it as hot or mild as you like.
🥕 We're providing fresh produce, like cauliflower, carrots, and celery, to families that face barriers to accessing healthy food as part of our work to fight for Food Equity.
🔆 Check out more of our Good Food for All recipes here.
We're back in Indianapolis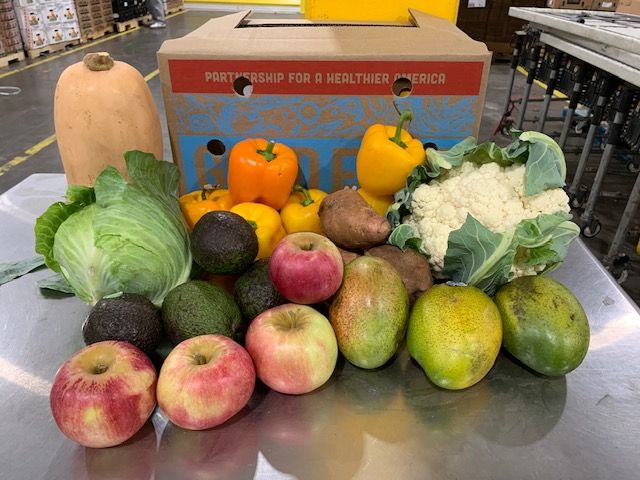 Take a look inside: here's what's in one of the produce boxes we're providing to families in Indianapolis.
📣 We recently brought Good Food for All back to Indianapolis after providing more than 1,000 families with 800,000 servings of fresh produce for 12 weeks last year.
🎉 What's new this year? 950 families will receive 10 weeks of free produce boxes followed by $50/month for 3 consecutive months of Good Food Funds (vouchers) to purchase fresh produce at local Safeway stores or through Instacart.
🙌 Our work in Indianapolis supports PHA's commitment, which was made alongside the White House Conference on Hunger, Nutrition, and Health. We'll be adding 100 million servings of produce to the marketplace by 2025!
Webinar for Clinicians: Raising Adventurous Eaters
👶 Feeding a baby during the first 1,000 days of life can be an exciting challenge for parents, caregivers, and babies alike.
🗓️ Join PHA and Doctor Yum for a webinar on Thursday, November 10 at 3pm ET about the role clinicians can play in helping families raise adventurous eaters.
📍Participants will receive FREE resources to help support families in building a strong foundation for healthy eating during pregnancy and from 0-15 months of age. Join the event.
Mark your calendar: November 29!